We support students by offering opportunities designed to enhance their educational experiences, improve their academic performance, and encourage informed and intentional decision-making.
Speak with an APEX Advisor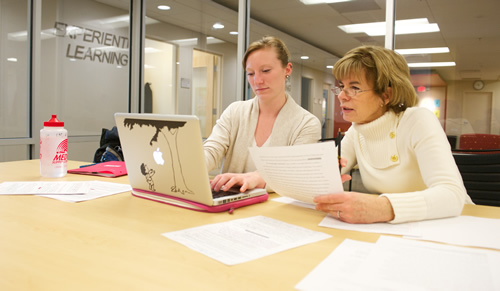 Do you want to talk with someone about your course selection, potential majors, or your educational goals? Would you like help with developing personalized strategies for enhancing your academic learning? Stop by the front desk in APEX or click on a link below to schedule an appointment with one of our APEX Advisors. And remember, drop in appointments are available during Walk-in-Wednesdays 1:30 – 4:00.
Use these links to schedule a meeting with Krista Martin or to schedule a meeting with Dr. Mark Graham.
Wooster 101's
Held most Tuesdays during the fall semester, Wooster 101 sessions offer an introduction to strategies, resources and opportunities to help students make the most of their educational experience. The range of topics include effective time management, college-level reading and writing, and information on Off-Campus Study programs and internships. During Fall 2020, Wooster 101's will be held on Teams from 11:25 a.m. to 12:20 p.m. Check the schedule and join us!
Peer Mentoring
First year and transfer students can meet weekly with a trained upper-class student who can help with the transition to Wooster. Students who have worked with a peer mentor report great satisfaction and success during their first year at Wooster. Contact Krista Martin to be paired with a Peer Mentor.
Tools for Educational Planning
Below are several tools that have been proven to help students with their educational planning. You can use these on your own or meet with an APEX Advisor for feedback and further ideas.
Tips for Academic Success
Meet with your academic advisor more than once each semester.
Meet with the faculty members teaching the courses you are taking outside of class.
Get help early if you are struggling with a course. Contact the Academic Resource Center for a Peer Tutor.
Keep track of due dates for large assignments and when exams are scheduled in all your classes. Use tools such as the monthly calendar to help to organize your big assignments and events.
Other Important Academic Resources
For assistance with written assignments, make an appointment with the Writing Center.
For help with mathematics coursework or homework, stop by the Math Center.