About the
Academic Resource Center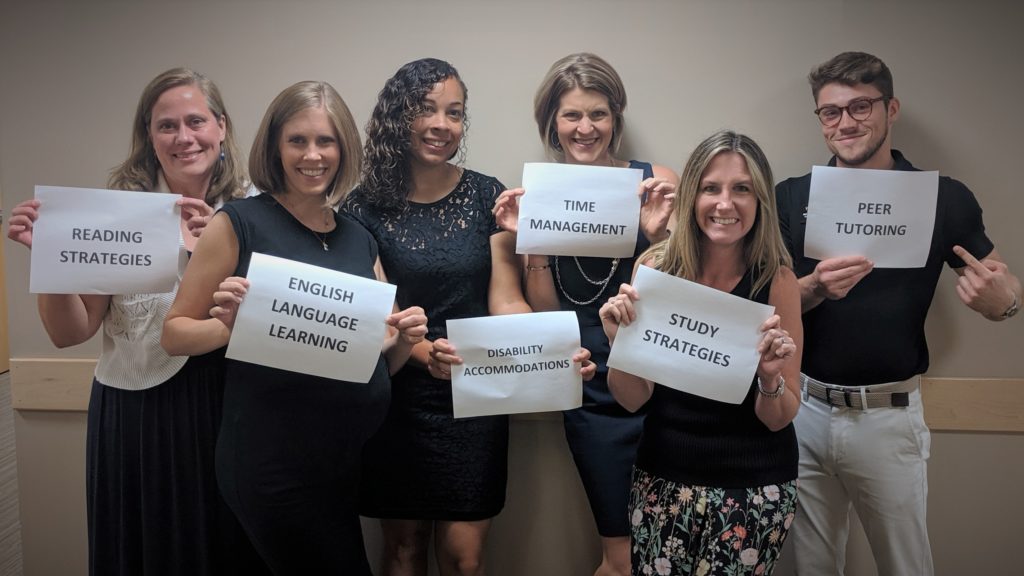 Whether you are a straight-A student or a student experiencing academic difficulty, the Academic Resource Center staff welcomes you. Our commitment is toward empowering students to be intentional and fully engaged in their own academic experiences.
In upholding this commitment, we focus on each individual student's unique needs and goals. Our caring, professional staff members can help you equip yourself to confidently meet your academic challenges from First Year Seminar through Senior Independent Study. We will collaborate with you to develop personalized strategies to learn and to study effectively, both in and out of the classroom. We can also connect you to essential campus resources that can assist you in creating an exceptional college experience.
We want to help students thrive for a lifetime. We do not just want to help you graduate, we want you to develop enduring skills that will help you achieve your goals on your next exam, during the next semester, and in your endeavors beyond graduation!
Meet with Academic Resource Center Staff
The Academic Resource Center offers many resources for students: appointments with professional staff or Peer Tutors, Disability Support Services, and English Language Learning.
Academic Skill Development
Do you want to feel like you are thriving in your classes, instead of just getting by? Whether you are struggling with academics or you simply want to be a more effective and efficient student, you can enhance your learning strategies inside and outside the classroom. Our staff can help you strengthen your academic skills such as time management, note-taking methods, test-preparation strategies, or I.S. planning. Read more or schedule an appointment with a staff member to start a conversation.
Disability Support Services
Are you seeking information and support for your disability? By working together, we can determine appropriate academic accommodations and services at the collegiate level.
English Language Learning (ELL)
Are you adapting to using English in the classroom? Are you adjusting to the American academic system? The English Language Learning staff can help international students with language learning and/or adjusting to the American academic system.
Peer Tutoring
Quantum mechanics? Moles? Markets? Mitochondria? Are you trying to make sense of a specific class and wishing you had some additional help? By using just one hour per week, you can be paired with a Peer Tutor and get individual assistance from a trained student who has excelled in that class! Peer Tutors can help you understand assignments, explain key concepts, and offer feedback in courses within seven departments, including chemistry, physics, economics and biology. See the full list of available fields of study and learn how to request a Peer Tutor.
Events and Workshops
You may be a first-year wanting to start out strong or maybe you are overwhelmed by the end of semester workload as exams approach and papers are due! Regardless of where you stand, the Academic Resource Center offers Events and Workshops throughout the academic year that focus on valuable skills which will help you throughout your career at the College of Wooster. Stop by and check one out!
Contact Information
Who to contact for specific needs:
Front Desk Phone Line: (330) 263-2595
Voicemail is checked regularly while we are remote until August 2nd. Please leave your name with correct spelling, your phone number, why you are calling, and what time zone you are in. Messages that are not understandable will not be returned, but we will do our best to get back to you within 1-2 days during the week or within 2-3 days if your inquiry is received after 5 p.m. or on the weekend.
Fax Information: The Academic Resource Center does not have a secure and private fax number. All information should be either scanned and added to the student ClockWork account, scanned, and emailed to Amber Larson, or mailed directly to the ARC.
Microsoft Teams: The ARC does use the chat feature in Microsoft Teams. Chats received will be responded to as time allows.
Mailing Address:
The Academic Resource Center
1140 Beall Ave
Wooster, OH 44691
Other College of Wooster Resources
Gault Library: A hub for the breadth of The College of Wooster's reading and research resources.
Writing Center: Consultations for any writing project for any course.
Math Center: Assistance for introductory math courses.
STEM Success Initiative: A supportive community of students, staff, and faculty engaged in introductory mathematics and science courses.