Wooster 101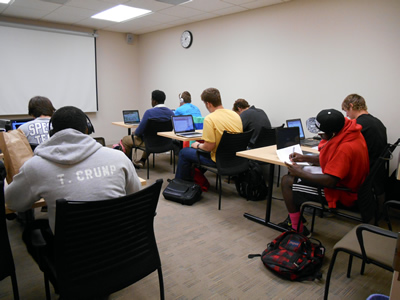 Lay the foundation for an extraordinary College of Wooster experience! Wooster 101 can help you transition to college, hone your study skills, and create a unique educational experience. This series of workshops is presented by APEX in the fall semester and is designed especially for first-year students. The Learning Center's contribution to the series has included sessions on time management, test-taking strategies, and reading skills. Check out the Wooster 101 schedule on the APEX calendar.
Study Hall
Study Hall is offered at critical times during the semester, when workloads (and stress levels) can be overwhelming! Whether you are a first-year or senior, you'll benefit from 2 hours of distraction reduced, productive work time during the day! Pre-registered Study Hall attendees will receive a brown bag lunch featuring a Jimmy John's sandwich. Seats are limited and fill up fast, so watch for an e-mail with all the details and to get your chance to register.
English Language Learning Workshops
Workshops for international students are low-stress ways to learn specific, practical skills. These workshops are offered throughout the academic year and cover academic, social, and cultural topics. Read more about ELL workshops.