Residence Hall Linens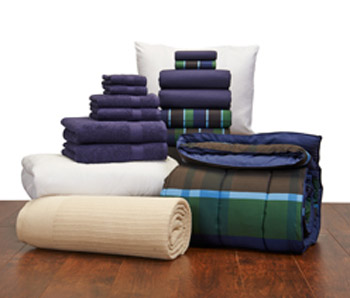 The College of Wooster has been offering the Residence Hall Linens program since 1999. Students at The College of Wooster require extra-long sheets, blankets and comforters to fit the campus's mattresses. These extra-long beds (longer than 76 inches) are intended to maximize the comfort levels of every student. Our goal each year is to make sure students and parents have the right size residence hall bedding for move-in.
All of our residence hall room bedding and accessories come with a 100% satisfaction guarantee right up to graduation. You may return your linens for a full refund if you are not satisfied for any reason. View our full selection of linens and place your order today! Our best selection of college bedding and a guarantee of your first choice is available for parents and students who respond early.
MicroFridges
If you're tired of lugging a heavy fridge from home to room, save yourself the effort. Rent a microfridge from Bedloft.com, and let them do the work. Just a few reasons to get a microfridge include:
All microfridges come with an attached microwave, saving you even more work.
An energy-saving feature allows the microfridge to turn off while the microwave is in use.
If you have questions about your order or need assistance call Bedloft.com directly at 866-651-5638.