Pronouns are used in speech and writing to take the place of people's names. We frequently use them without thinking about it. Often, when speaking of someone in the third person, these pronouns have a gender implied. These associations are not always accurate or helpful.
Using someone's correct gender pronouns is one of the most basic ways to show your respect for their identity.
To request pronoun buttons or stickers, use this form.

Learn more how Pronouns Matter in a Virtual Format
What are Pronouns?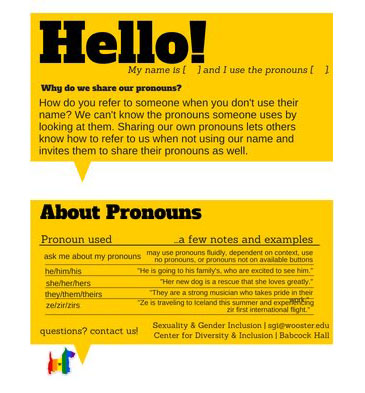 Pronouns are words that refer to either the people talking (like you or I) or someone or something that is being talked about (like she, they, and this). Gender pronouns (like he or them) specifically refer to people that you are talking about.
Using Gender Pronouns
People may choose to use a variety of pronouns. Below is a list of some commonly used pronouns and how they are used. This is not an exhaustive list. It is good practice to ask which pronouns a person uses.
Why is it important for members of the College of Wooster community to respect pronouns?
The College of Wooster's nondiscrimination policy includes protections for sex/gender, gender identity, and gender expression. A key element of creating a safe space for people of all sexes and gender identities is the respectful use of gender pronouns.
The Wooster Ethic sets an expectation of personal integrity, not just in academic, but social interactions.
With the Civility Statement, "We pledge to stand united against hate by creating and contributing to safe learning environments in our community. We respect and value the commonalities and differences among us – celebrating the uniqueness of each individual and recognizing it takes all people to make a college community."
Sharing our pronouns, giving space for others to introduce theirs, and consistently using them correctly is one of the most basic ways to show your respect for their gender identity.
You can't always know what someone's pronoun is by looking at them. When someone is referred to with the wrong pronoun, it can make them feel disrespected, invalidated, dismissed, alienated, or hurt.
Incorporate pronouns in everyday use, with these strategies: