The following step-by-step process and checklist is designed to help students understand how to find student employment and the required steps before a student can begin working.
Student Employment Hiring Timeline:
For student employment positions please review the available position(s) that you would like to apply for on the Student Job Board page. This page is regularly updated and students interested in employment are encouraged to check it often.
Supervisors will submit the job description to Student Employment for review 
Once the Office of Student Employment approves the job description, a job posting will be created. 
Supervisors will complete a Student Employment Action Form (SEAF) for each student hired
The Office of Student Employment will complete additional information necessary for the student's employment
If the student is an international student, the Office of Student Employment will verify if the student has a social security number (SSN)
a. If there is no SSN listed, the Office of Student Employment will reach out to the International Student Coordinator to set up an appointment with Social Security Administration and that student.
If the student has not been employed before The Office of Student Employment sends students new hire student employment paperwork.
Once the new hire paperwork is completed, as instructed students MUST follow up with Student Employment to schedule an Employment Eligibility Verification appointment.
The Office of Student Employment will review the student's Employment Eligibility Verification(s) and the new hire documents at the time of the student's appointment.
The student and supervisor(s) will receive an email once the internal student hiring process is complete
NOTE: It is illegal and unauthorized for a student worker to start work before completing paperwork and receiving all clear-to-work emails from the Office of Student Employment.
Academic Year Student Employment Workflow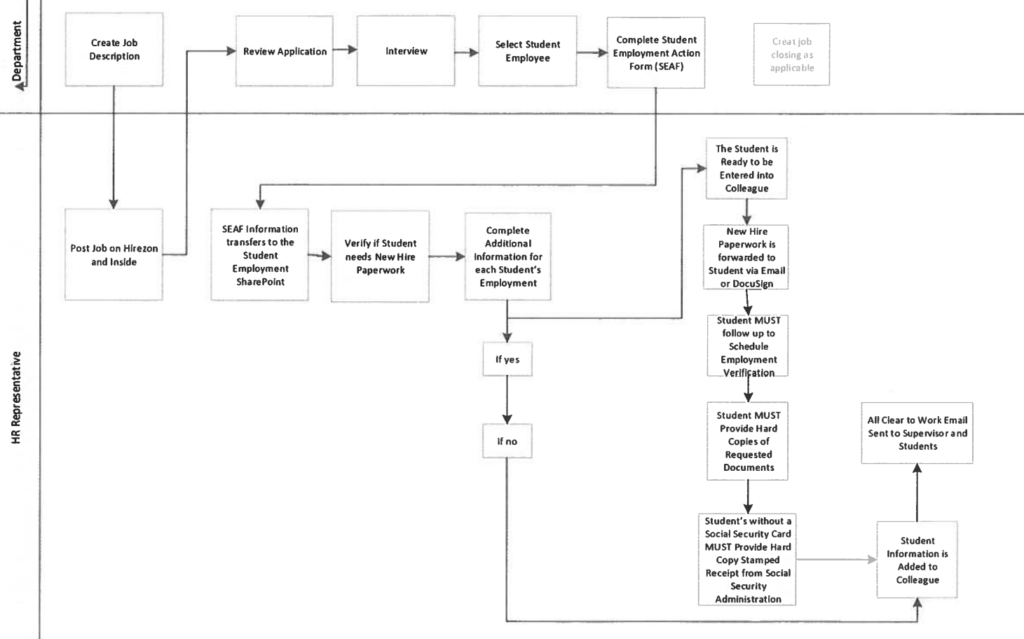 Summer Student Employment Workflow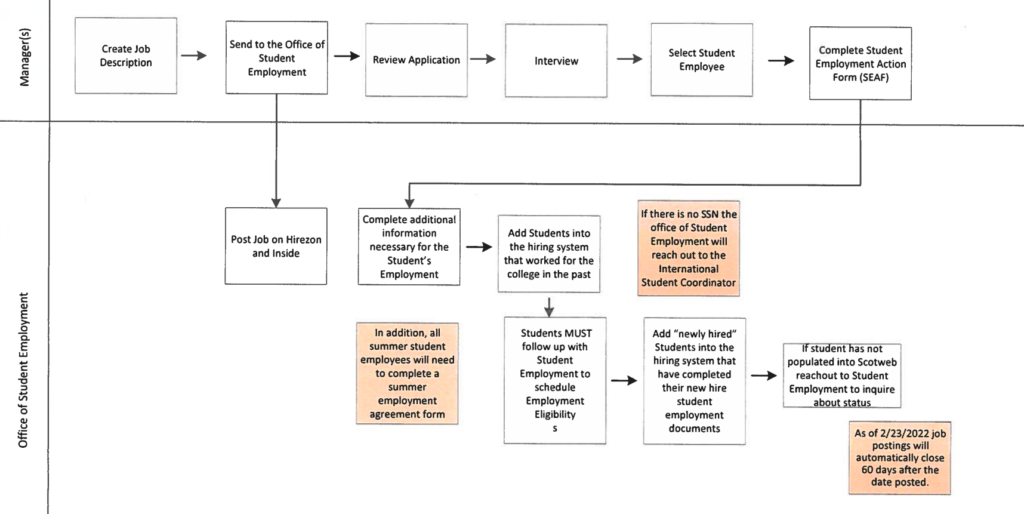 Questions:
Please contact the Office of Student Employment by email at studentjobs@wooster.edu or call at 330.263.2234 if you have any questions about the application process, new hire paperwork, or when you are able to begin employment.