Planning
Start planning the content for your poster early. Give thought to how you will translate the content from a written paper or report to a poster format.
Tips for a Good Poster
Important information should be big enough to be read from 10ft away
Title is short and draws interest
Word count should stay approximately 300-800 words; no more than 1000-1100 words
Use bullets/numbering and headlines to make easy reading and flow
Effective use of Graphics, charts and fonts
Consistent and clean layout
Includes acknowledgements and College affiliations
Create a logical reading flow
Topics often included are
Not all of these topics will be necessary or applicable to your poster, make sure you're only including information that makes sense for your research or project.
Title
Ensure your title is succinct, draws attention and efficiently communicates the topic and significance of your project. The tone of your Title should be professional, but avoid jargon – you want all audience members to understand your work at a glance
Collaborators and Institutional Affiliates
Make sure that you order your collaborators and team correctly. Check with your faculty supervisor for information on how to list your authors if there are more than one.
Abstract
Your Abstract should be a short, precise summary of your research or project. Not every poster should have the abstract, but it can be a great way to get a short description of your research on your poster.
Background and Literature Review
Make the case for your research, and how your research may contribute to existing research on the topic
Research Questions
Provide a clear statement about your research and the problem you were trying to solve or issues investigated
Materials and Methods
This should be a brief description, you can use visual aids to summarize the information.
Results
What were the outcomes? What did you learn? Can be expressed Qualitatively or Quantitatively as appropriate.
Discussion and Conclusions
What are the broader implications of your research or project?
Acknowledgements
Thank your department and advisors, and any other collaborators who are not authors for their contribution to your work
Tips for Design Elements
Keep in mind space and layout limitations, elements that add visual interest (images, charts, graphs, illustrations, etc..), headings and titles. Consider your key message and the audience to which you will be presenting. A good rule of thumb is to aim for no more than 1000-1100 words on your poster.
Templates and logos are available for download before creating your poster. Your department may have a template for poster presentations for your discipline, so check with your advisor before creating your own poster.
Be aware of several general guidelines for design elements when creating your poster:
Backgrounds: Be careful with full color, textured or (especially) image backgrounds. You can use them, but they will take longer to print, require careful selection of font size, style and color; and will often require you to add a background color to text boxes or image frames.
Fonts: A good general guideline for font choices is to use common fonts. Helvetica, Times, Arial, Verdana and Georgia are all common fonts for printing. Avoid overly decorative fonts that my be more difficult to read.
Font Size: A general guideline for font sizes is 98 point for the Title, 48 point for headings and 24 point for the body text. You can obviously vary from this somewhat, but anything smaller than 18 points may be difficult to read from a few feet away for many people. Keep the setting in which you will be presenting your poster in mind when determining these sizes. Also keep in mind that if you are forced to increase your font size that you may need to cut text or change your layout to accommodate larger characters.
Blank Space: Remember to leave proper spacing between elements of your poster. If text boxes and images are cramped on the page, it makes the poster more difficult to read.
Images: Posters are a visual medium, and for that reason images can add significant interest to your design. The images could be graphs, charts, photographs, illustrations or other visual materials that relate to your topic.
Software to begin Creation
Once you know how you would like to layout your poster, and the information you will be including, you're ready to start designing your poster! The following programs are recommended
Using pages to create your poster
Using PowerPoint to create your poster
InDesign is also available on select devices across campus for you to design and create your poster
Note: It is not recommended to use Canva or Adobe Express to create your poster as they will not create the correct custom size.
Exampled of a Good Poster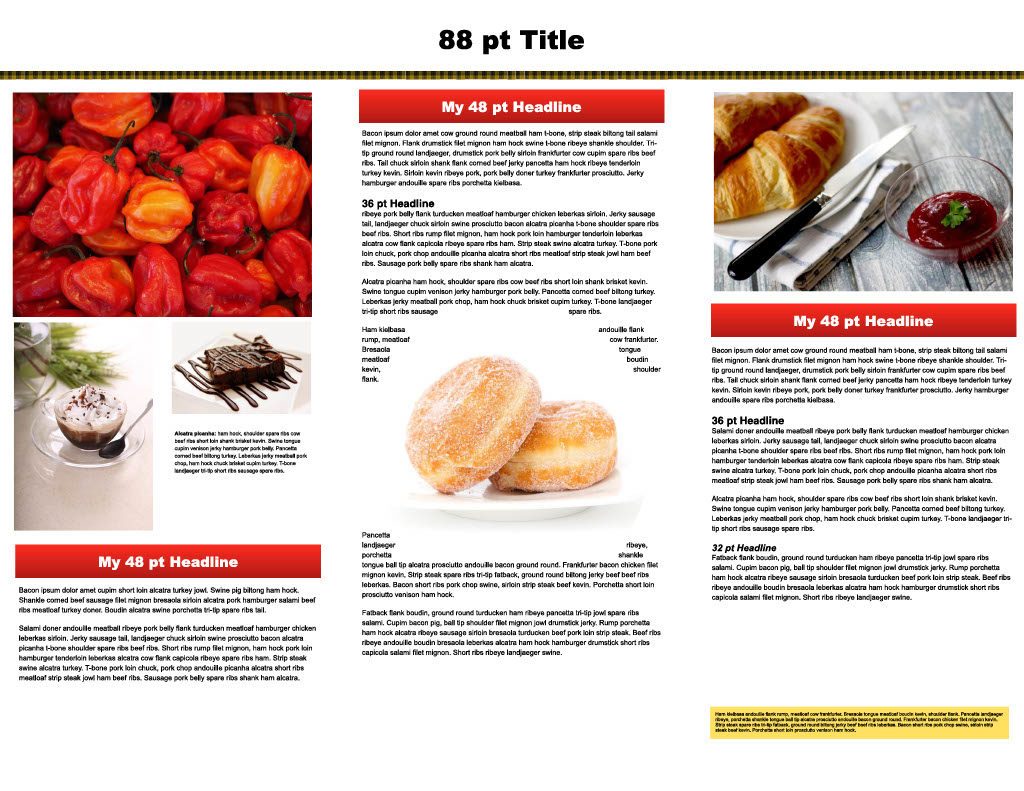 When you're ready to print
Be sure to download your file as a PDF and submit it to the Poster Printing Form