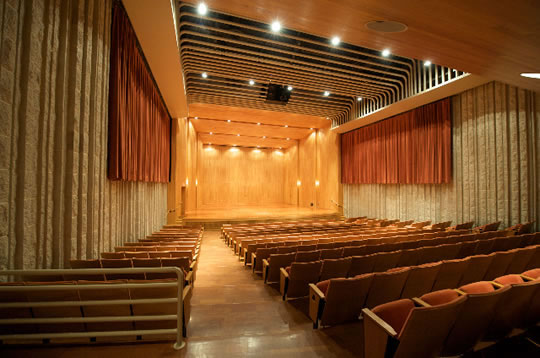 The Department of Music offers students comprehensive training in performance, music theory, music education, music therapy, and music history and literature.
Music students enter regional and national competitions and go on to prestigious graduate programs and/or successful careers in performance, education, scholarship, and industry.
Non-majors are also highly involved in the department, taking classes and lessons, participating in ensembles and performing on recitals.
If you are considering a career in music or want music to be a significant part of your life, the Music faculty will help you expand your understanding of musical style and structure, improve your musicianship, and set the groundwork for an evolving, mature, and lifelong interaction with music as a form of profound aesthetic expression.
MUSIC SCHOLARSHIP EXPECTATIONS
Beginning with the first semester of the first year and continuing for as long as the music scholarship is held, recipients must:
Enroll in private lessons on the instrument or voice in which the scholarship was awarded or in composition lessons if the scholarship was awarded for composition.
Participate in the Wooster Singers, Wooster Chorus, Wooster Symphony Orchestra, Scot Band, or Wooster Jazz Ensemble, as assigned by the ensemble directors. (Depending upon need, pianists might be asked to enroll in Accompanying instead of a large ensemble during some semesters.)
Must earn a satisfactory grade (C- or higher) or a satisfactory audit in the required lessons and ensembles each semester in order to maintain the scholarship.
APPLIED MUSIC LESSON FEE POLICY ("Expenses" section of 2022 Catalogue)
With respect to private music lessons, a fee of $700 is charged for fourteen weekly one-half hour lessons per semester, regardless of whether the lessons are taken for credit or audit. This fee is reduced to $25 (half-hour lessons) or $50 (one-hour lessons) for:
lessons in the primary instrument or voice required of declared music majors in all music degree programs, or
lessons required of Music Performance Scholarship winners regardless of class year or major, or
lessons covered by a (lesson) scholarship given to the student by the Scot Band, Wooster Symphony Orchestra or Wooster Chorus.
MUSIC TUTORS
Tutors for courses in music history and music theory are appointed by the Music Department, free of charge, for the following courses. Please contact them as needed.
MUSC 100 – FUNDAMENTALS OF MUSIC
Anna Puster
Colin Schrein
Sitara True
Abby Washinger
Hannah Wells
Ethan Yoder
Ryan Yonek
Paul Zito
MUSC 101/102 – THEORY I & II
Anna Puster
Colin Schrein
Sitara True
Abby Washinger
Hannah Wells
Ethan Yoder
Ryan Yonek
Paul Zito
MUSC 201/202 – THEORY III & IV
MUSC 212 – MUSIC HISTORY
MUSC 301 – THEORY V
PIANO