Please refer to the 2020-2021 Guide for information on our current operating level.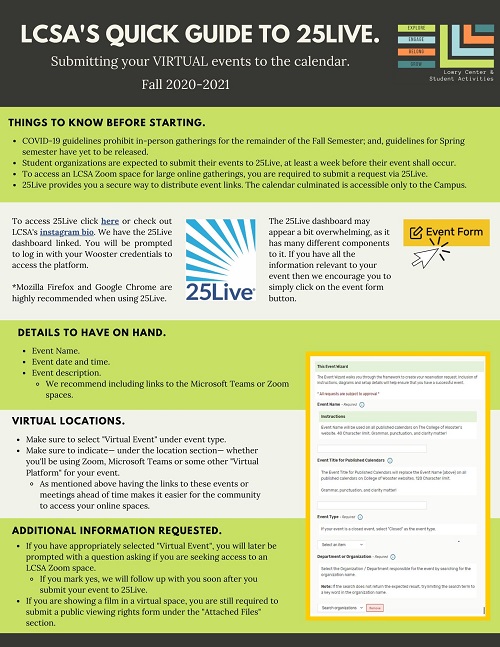 When The College is operating at a level green, indoor gatherings of more than 10 students will be considered. A safety proposal must be submitted to Lowry Center & Student Activities for review when your event is scheduled, or attached to the event form in 25Live. Event spaces where indoor gatherings of 10 or more students will be considered are as follows: The Alley, The Governance Room, McGaw Chapel and all outdoor spaces. To check the availability of a space, please refer to 25Live.
The Office of Scheduling and Events provides program support, services, facilities, and amenities for students, faculty, staff, alumni, and guests. These services are designed to bolster activities that enhance campus life and enrich the campus community.
Scheduling Policies and Manual
Review these policies before scheduling events in 25Live.
Details about how to schedule an event can be found in the 25Live Campus Reservations Training Manual
for instructions to successfully navigate 25Live.
25Live Campus Calendar
Please review the calendar of events to check and see what events are planned. Programming against other departments or organizations is strongly discouraged.
Required Forms
Movies
If your event includes watching a movie, please submit the Public Viewing Rights Form. Your event will not be approved without proper approval of this form.
Alcohol
All events where alcohol is present must be registered and approved.
Faculty and staff must submit the the Request for Permission to Have Alcohol at College-sponsored Event Form. Students must submit the Campus Events with Alcohol Form.
Your reservation and event will not be approved without the proper approval of this form.
Outdoor Events
All events that are taking place outdoors require special permission from several departments. You must complete the Outdoor Request Form in conjunction with your request in 25Live and submit this form to the Scheduling and Events Office 14 days before your event.
Art Wall
In order to reserve the Art Wall in Lowry Center, you must complete the following steps:
Read the Lowry Center Art Wall Policy. Submit a request in 25Live at least 10 days prior to the date that you plan to put up your Art Wall display. Complete the Art Wall Application and include a draft of your display. Turn it into the Scheduling and Events Office in the lower level of Lowry Center at least 10 days prior to your installation date.
Install your display on Sunday after 2:00 p.m.!
NOTE: Publicity materials are available for Student Organizations in the Student Activities Office in Lowry Center, Monday through Friday from 8:30 a.m. to 7:00 pm. During the fall semester of 2020, you will need to schedule time to get supplies for the art wall, Tuesday through Friday between the hours of 9:00 am and 4:00 pm. The Campus Life Office has conveniently been added to 25Live as an Express Scheduling location. Please refer to the 25Live Campus Reservations Training Manual for instructions on using 25Live.
Please direct inquiries to:
Darlene Piper, Scheduling and Events Coordinator
(330) 263-2544
dpiper@wooster.edu