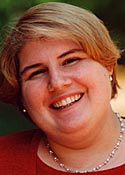 Megan Wereley, associate professor of education at The College of Wooster, will present "Staying Back to Get Ahead: The Practice of Academic Redshirting in an Era of High-Stakes Education Reform" at the third and final Faculty at Large lecture of the spring semester on Thursday, April 21. The free public lecture will begin at 11 a.m. in Lean Lecture Room of Wishart Hall (303 E. University St.).
Wereley will discuss the practice of academic redshirting (intentionally delaying a child's entry into formal schooling). Utilizing data from the Early Childhood Longitudinal Study (National Center for Educational Statistics), she will explore both the academic and social outcomes of this practice. She will also consider this phenomenon as an unanticipated outcome of sweeping educational policy mandates (including No Child Left Behind and looking ahead to the newly legislated Every Student Succeeds Act).
Wereley, who joined the faculty at Wooster in 2002, received her bachelor's degrees from the College of Wooster and her M.A. and Ed.D. from Teachers College, Columbia University. Her primary teaching and research interests are in early childhood curriculum and literacy, educational policy, and technology and young children.  She is a member of the National Association for the Education of Young Children, the Society for Information Technology and Teacher Education, and the American Sociological Association.