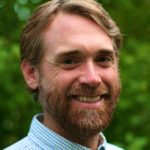 WOOSTER, Ohio — Matthew Broda, Associate Professor of Education at The College of Wooster, will present "Playing with a Purpose: Scaffolding Learning Communities to Promote Collaborative, Creative, and Critical Inquiry" at the next Faculty at Large lecture on Tuesday, Nov. 18, in the Governance Room of the Scot Center (1267 Beall Ave.). The lecture, which is free and open to the public, begins at 11 a.m.
Broda will look at the non-cognitive skills at the core of effective teaching and learning, and examine the role of the complex, purposeful, and fulfilling networks of people pursuing individual and collective aims. "Building these social networks and thriving classroom cultures takes time and targeted facilitation by educators to build the rapport needed for students to see each other as viable and necessary resources for learning," he says. "This play-based experience will 'actively' explore the benefits of game-based experiential learning methodologies in the development of classroom culture, and involve participants in a multi-phased model for building collaborative, creative, and supportive face-to-face networks."
Broda is an Associate Professor of adolescent and young-adult education in the Department of Education at Wooster, where he has been a member of the faculty since 2007. His areas of expertise include instructional technology, curriculum design and instructional methodologies, teacher leadership, experiential and adventure education, and professional development. Broda received his B.S. from Kent State University (1999) before earning his M.Ed. (2004) from Ashland University and his Ph.D. (2007) from Kent State. Prior to his fulltime appointment, he was an adjunct professor at Wooster and Kent State. He also served as a K-12 curriculum and instruction specialist, as well as a middle school science, social studies, and language arts teacher. He has written and presented on numerous topics in his fields of expertise at conferences across the country.