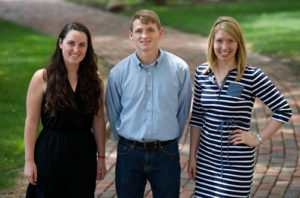 WOOSTER, Ohio — Summer slides are great for the pool or the playground, but not for sustained academic achievement. All too often, however, students experience considerable learning loss during the summer months, prompting administrators from one local district to ponder the possibilities of a restructured academic calendar.
Wooster City Schools superintendent Michael Tefs and members of the school board have enlisted the services of three College of Wooster students to help them better understand the pros and cons of such a move. Alyssa Hullings, Abigail Frank, and Sheamus Dalton, along with advisers Alison Schmidt and Megan Wereley, are conducting foundational research this summer through Wooster's Applied Mathematics and Research Experience (AMRE), a highly regarded eight-week summer program in which students serve as paid consultants to provide solutions for specific problems in business, industry, education, government, and the non-profit sector.
Through interviews with key stakeholders and studies of existing literature on the subject of year-round schooling, this AMRE team hopes to provide enough information for school administrators to further investigate their options and ultimately decide whether such a change is prudent. In addition to parents and teachers, stakeholders include local politicians, college leaders, and administrators from other area schools.
"Our objective is to create a comprehensive literature review of year-round schooling," said Hullings, a communication studies major and education minor from Ewing, N.J. "We are investigating all angles of the topic. We're not here to give an opinion; just to provide data to help the district make an informed decision."
The student-research team has been looking at several existing models, including a quarterly system that calls for 45 school days for every 15 days of vacation, and a trimester format that features 60 school days followed by 20 days of vacation.
"We're trying to provide a picture of what year-round schooling might be like and how it will affect the community," said Frank, a rising junior from Coshocton, Ohio, who is majoring in communication sciences and disorders with a minor in education. "The major issue will be the loss of an extended summer break, which educators believe leads to learning loss and an overall decline in student achievement."
The major challenge for this trio of students has been to squeeze an ambitious schedule of interviews and an extensive review of the literature into a finite time period. "We are limited to eight weeks," said Dalton, a history major and an early childhood education minor from Litchfield, Ohio, "so we have been very busy."
So far, their research has yielded some interesting but inconclusive results. For example, they learneed that year-round schooling dates back to the early 1900s but really began to grow in the 1960s and 1970s. They also discovered a variety of options in the structure and implementation of various models. In addition, they found that the fiscal impact varied depending on whether schools incorporated an intercession period, during which opportunities for enrichment and remediation could be offered. Also considered was the impact on discipline, absenteeism, transportation, food service, childcare, teacher satisfaction and a range of other variables. The deciding factor would be the impact on academic achievement, and right now, the three students say that more research is needed.
The group made an initial presentation in June and will deliver a written report and a detailed overview to school administrators and members of the school board in August.
"The students created an incredibly comprehensive qualitative examination of the literature surrounding the concept of year-round schooling; they truly left no stone unturned," said Wereley. "Their level of diligence in gleaning a variety of perspectives and thoughtfully presenting both potential benefits and areas for careful reflection and consideration will provide the district with a firm foundation upon which its own committee can begin its further exploration and study."
Beyond their findings, each of the three students derived significant individual benefits from their experience. "It was great to be part of a team, and see how we could play off of each other's strengths and weaknesses," said Hullings. "It was also very rewarding to do something meaningful."
Frank saw considerable value as well. "It was interesting to explore the issue," she said. "Being able to collaborate with Wooster City Schools was very beneficial. It was exciting to have a positive impact on the Wooster community."
Dalton noted the educational benefit. "When I first heard about the project, I was excited because it gave me a different perspective on education," he said. "It was great to be able to expand our horizons and enhance research skills through this project."
(From: http://www.wooster.edu/news/releases/2014/july/amre-schooling/index.php)