BLUE The Snowball Microphone
This Snowball Microphone is part of the Conference Kit offered by Information Technology.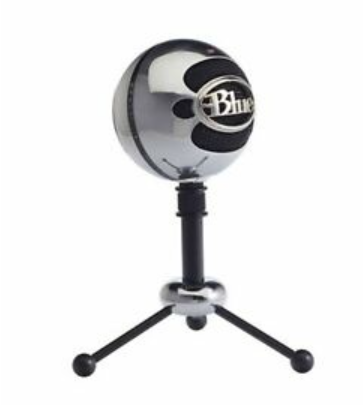 This Microphone connects to your device with USB.
Using a Blue Snowball Microphone with Robot
*Start with these instructions before selecting the robot meeting link*
Set the microphone to level 3 and plug the cord in to the back of the microphone. 
Power on computer and plug the USB end on the microphone cord into the USB port on the computer. A red light on the top of the microphone will indicate that it is connected. 

Check settings within your computer to make sure the Blue Snowball microphone is selected as the chosen input device. 

In the lower left-hand corner of your screen, you will see a magnifying glass or bar that says, "Type here to search" (if there is no bar click on the magnifying glass to get the search bar)
Type Sound Settings to open the Settings menu and make sure Microphone (Blue Snowball) is selected in the Input section. 

Close out the Settings menu and click the link provided to connect to the robot.
Allow microphone and camera access when asked through the browser/online portal.