We provide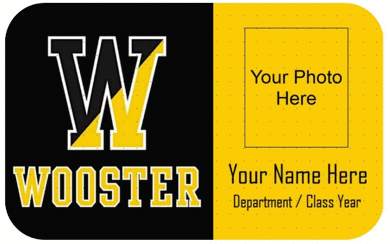 New or replacement COW ID Cards for students, employees, spouses/dependents, alumni, trustees, retirees
Card activation and encoding each semester upon returning to campus
House keys, office keys, staff keys
Room access changes or additional access required
You are responsible for ALL your keys and ID.Do not share with anyone!
Your COW ID Card is your …
College of Wooster Identification Card
Dining Card
Access to Lowry & Kittredge Dining Halls, and for Meal Plan flex dollars in all dining locations.
Access Card
For students living on campus, swipe your card to gain access to all residence halls and most academic buildings.
Debit Card
Make an initial deposit to open the GET account and use your COW card to make purchases at various on-campus locations.
Library Card
Check out materials from the college libraries and borrow materials from other academic libraries.
Admission Card
Present your card at one of Wooster's athletic facilities and at other campus-sponsored events. Your card is your ticket for admission.
Printing Access Card
The COW card gives students access to all public printers/copiers and their printing allocation.
COW ID Card FAQ's
Lost ID card?
Visit the Campus Access Office ASAP for a new ID card and deactivation of the lost ID. The replacement fee is $20.
If you locked your ID card in your room, contact your RD or RA. If they are not available, call Security.
Found ID ?
Please turn it in to Campus Access or Security.
What if my card doesn't swipe for dining but my ID can be manually entered?
Visit the Campus Access Office
Keys
The Campus Access office issues all residential keys for all houses on campus as well as all employee keys.
Students MUST return keys at the end of the school year or upon departure.
Students will be subject to $150 fee if a key is not returned.
Student Academic Access keys are distributed by the building coordinator for each building.
Lost key?
Visit the Campus Access Office ASAP for a replacement key and if necessary, have the locks changed on your door.
Campus Access and Locksmith Requests
Submit our campus access and locksmith request form.
Scheduling
We will schedule all items that are properly entered into Connect Daily and approved. Read about how to schedule an on-campus event in the scheduling policies (.pdf) or go directly to the 25Live system.
Hours and Contact Information
Daily: 8:00 am to 10:00 pm
Phone: 330-263-2564
Email
602 E. Wayne Ave
Wooster, OH 44691
After Hours: Contact Campus Safety at 330-263-2590