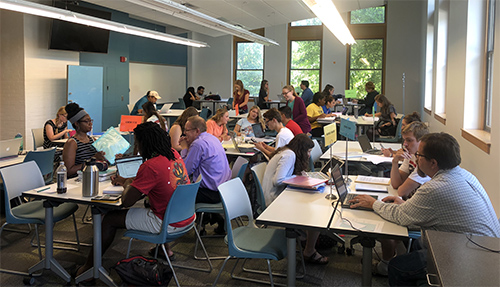 The STEM Zone is physically located in Severance 105 and is open Sunday – Thursday 2-4 PM and 8-10 PM.
The Zone is a STEM learning community. It is a collaborative community where any student taking an introductory science course can work in groups, work independently, and seek support from professors (who hold office hours there) and upper-level students (the Zone Interns).
The Zone and Zone Interns are resources offered by the STEM Success Initiative (SSI), whose mission is to empower Wooster STEM faculty, staff, and students in cultivating an inclusive STEM community to better support the academic success and STEM identity development for students from underrepresented groups. The SSI is a means to help faculty and staff do a better job of supporting the persistence and retention of all students.
To stay up to date with Zone news and events, follow us on Facebook.
Who is in the Zone?
Students taking introductory STEM courses
STEM Zone Interns (ZIs) – upper-level STEM students who receive significant training and mentoring, and are available to help introductory STEM students with their questions
Professors holding office hours
The STEM Zone Coordinator, Kara Melrose.
What are students saying about the Zone?
"[The most valuable aspect is] the opportunity to struggle through and solve problems with peers."
"It is a space dedicated specifically for STEM, so it is a very focused environment to study in. It also develops a STEM community at Wooster."