Microsoft 365 Licensing and Email after Graduation
For graduating seniors your College of Wooster provided Microsoft 365 licensing will EXPIRE on July 1. Your account will switch to an alumni account. You will no longer have access to Microsoft 365 suite (Word, PowerPoint, Excel, Teams, OneDrive). You will be able to continue using your provided College of Wooster email as it will make the transition with your new alumni status.
OneDrive
Over the course of your College of Wooster experience, you may have used your OneDrive cloud storage. As you look toward graduation and your future, file storage is probably the last thing on your mind. The following steps can be essential to your sanity later.
Download Files from OneDrive on a PC or Mac
Note: You may want to consider investing in an external hard drive depending on the amount of storage you will need.
Before beginning this process it is recommended that you see where your downloads are sent by default. If you would like your downloads to change from the default you should search your specific web browser for those setting.
Sign in to your OneDrive to open it in a web browser.
To download an individual file or folder, select it by moving your cursor over the OneDrive item and clicking the small circle that appears next to it.

Note: If you're viewing OneDrive in list view, it will be on the left, but in tile or photo view, the selection circle is at the top right of each icon.

If you want to download all the files or folders in the current OneDrive browser window at once, PC users can press Ctrl+A on their keyboard. Mac users should use Command+A.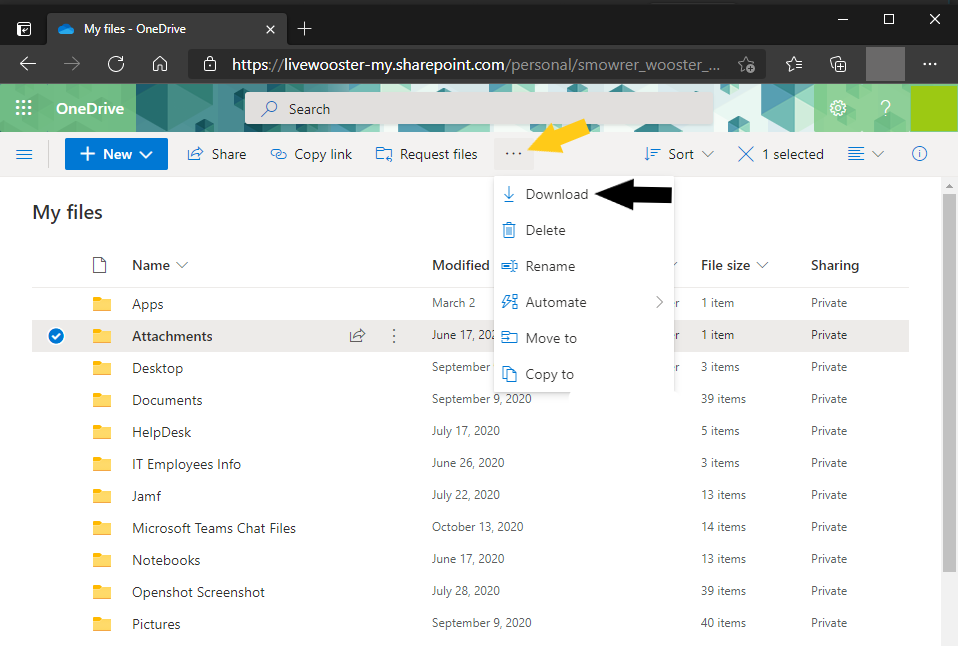 4. Click "Download" in the toolbar that appeared at the top of the page.
Your College of Wooster Email after Graduation
Your Outlook email address will remain intact after graduation. The email account will switch from a student account to an alumni account, but you should not notice any changes. Before graduation, update your personal profile with an alternative email address and security questions. The security questions you set as a first year may no longer be relevant or easy to remember.