Hey, what answers do you need?
The OneDrive application provides access from your computer or mobile device to the College's OneDrive for Business and Office 365 cloud storage for files.
How does it work?
Cloud storage can allow you to access documents anywhere or anytime with internet access. You can even download files to work on with out internet connection and sync them back to the original file when internet access becomes available again.
To learn more about OneDrive's features and access via a web browser, visit our OneDrive article.
See information on this page or visit Microsoft's support Manage files and folders in OneDrive.
Downloading the OneDrive App
Download the free desktop version or mobile app and connect to your College OneDrive account.
OneDrive Desktop Version for Windows or Mac
OneDrive app for iOS on iTunes
OneDrive app for Android on Google Play

Note for mobile devices: to edit files on your mobile device visible in OneDrive, you must use separate apps such as Word, Excel, and PowerPoint apps.
Downloading OneDrive Desktop Version from the Online Version:
OneDrive can be found online via Microsoft 365 where you can log into your College of Wooster email. In the upper left-hand corner of the window, there is a square/waffle, which drops down to reveal all of the Office 365 applications. By selecting an application within this menu you will launch its online version.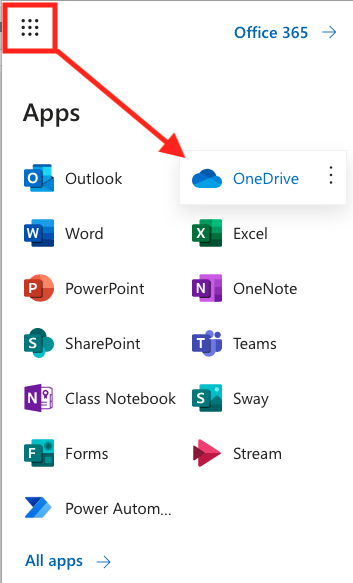 Login to your College of Wooster email using a web browser (outlook.office.com)
Click the square/waffle symbol in the upper left hand corner of the window.
A drop down menu should appear with Office 365 applications, click on "OneDrive."
When OneDrive launches there should be a menu along the left hand side. In the lower left hand corner select "Get the OneDrive apps."
When the new page launches, click on Download.
Click "Install/Save" and allow the file to be saved.
If the installation does not run automatically, find the installer package in your Downloads folder.
Choose "Run," and follow the guided steps of installation wizard.
Log in to the App
After installation is complete and OneDrive launches you will be prompted to sign in using your College of Wooster credentials. You will also be prompted with a request for your two-factor authentication.
STUDENTS: Please note that your access to the OneDrive service is only available while you are a student at Wooster. Once you graduate, your access to those files will go away. Be sure to backup those files to another storage location before you graduate.
Checking Installation and Connection on Mac and Windows
Check the Applications folder for installation. The application is listed as "OneDrive" and will not appear with the other Microsoft applications.
On Mac: The OneDrive icon will appear in the upper right corner.
On Windows: The OneDrive icon will appear in the lower right.
How Files Appear in File Storage
A OneDrive folder named "OneDrive-The College of Wooster" will be added to your computer.
To learn more about OneDrive's features including sharing files with others and access via a web browser, visit our OneDrive article.