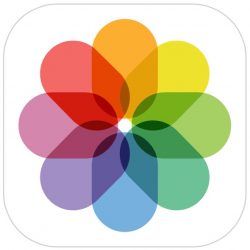 Apple's Photos application is a basic image storing and organization program for Macintosh computers. Users can import images and videos from cameras, smartphones, iCloud accounts, and other places to create albums or folders. It is designed to easily integrate with other Apple applications like iMovie, Pages, Keynote, etc.
What can it do?
Easily import and organize photos and videos from devices, cloud storage, and other folders
Quick edits to common flaws found in images (red-eye, color correction, etc)
Tools to crop, resize, rotate, and reformat images
Various filters to overlay on images
Uses in a Course

Manipulate images to illustrate course concepts
Instructors can use Photos to manipulate images during class discussion to highlight concepts or ideas visually, such as the composition of a photograph or the choice of color in an art piece that is representative of a particular phase of an artist's career. 
As a tool to enhance lectures
Instructors can use Photos as a repository to hold images to use during a lecture. Users have the ability to create many albums or 'events' to organize images according to a topic or specific lecture. 
Resizing images for classroom display and Web spaces
Files created by digital cameras are typically too large in height and width to be used in web spaces like Moodle. Photos can be used to resize them to display properly in the browser.
Things to consider before using Photos
Photoshop is an appropriate choice for more advanced image editing and manipulation.
Flickr or a class blog is a more appropriate choice as a collaborative space for organizing and sharing images amongst the class. 
Access
Photos is available on all Macintosh computers on campus.
Additional Help
Student Technology Assistants are available to help at the Digital Media Bar in Andrews Library in the CoRE.
CoRE Consultants can help at the Digital Studio in Andrews Library.
Apple has official documentation on its website.
Apple also offers support on specific topics not covered in their official documentation.
Apple Support's YouTube offers video tutorials in Photos.

Educational Technology can provide instruction and support in Photos.