Longbrake Student Wellness Center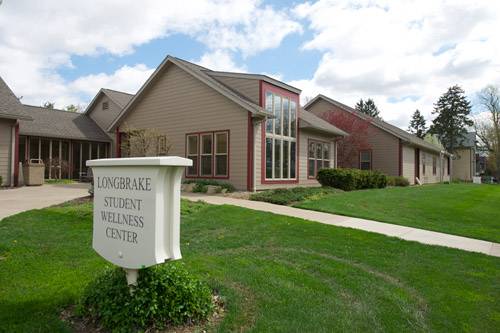 Please call ahead to Wellness to schedule an appointment, or to notify us of an immediate concern, as we are not doing walk-ins at this time. For both daytime appointments or an after hours emergency, contact Wellness at 330.263.2319 and you will receive further instructions about how to proceed. 
The Longbrake Student Wellness Center (LSWC) provides comprehensive health services for College of Wooster students enrolled on a full-time basis. The staff consists of physicians from the Cleveland Clinic Wooster, professional mental health counselors, health education coordinator, certified athletic trainers, office administrator, and registered nursing staff to maintain 24-hour service during the academic year.
If you need help getting here, view the campus map .
TimelyCare: Telehealth for Scots
College of Wooster has launched a new telehealth program for students called TimelyCare: Telehealth for Scots that will provide care while you are away from campus. The service will provide access to 24/7 medical and mental telehealth care from anywhere in the United States, with no cost at the time of visit! Use your Wooster email to establish a free and confidential account.
Whether you're feeling sick or overwhelmed, you will be able to talk to a licensed provider from your smartphone or any web-enabled device. Licensed providers are available to diagnose non-emergent medical conditions, prescribe medications, and offer mental health support via phone or secure video visits. Below are a few FAQs about TimelyCare.
How can students access TimelyCare: Telehealth for Scots? Go to TimelyCare: Telehealth for Scots to register with your school email address, enter the Service Key SCOTS, and select a service to start a visit. You can access Scots Telehealth from any web-enabled device.
Who can use TimelyCare?Any College of Wooster student.
What services are available?There are three services available to students at no cost:
Medical: 24/7, on-demand access to a medical provider that can treat a wide range of common illnesses like cold and flu, sinus infection, allergies and more
TalkNow: 24/7, on-demand access to a mental health professional to talk about anything at anytime
Scheduled Counseling: scheduled options to speak to a licensed counselor
Health Coaching-access to coaches to support health sleep, eating, and exercise
Meditation & Yoga on demand classes
Psychiatry-accessed through referral from Wellness Center doctors or counselors
How much does a visit cost? There is NO COST for College of Wooster students.
Can TimelyCare services diagnose COVID-19? TimelyCare will virtually assess symptoms and administer frontline care in a contained environment to limit the spread of illness. They will also give recommendations on need for testing vs. self-quarantine, and where to go if testing or further care is needed.
Appointments
To see a registered nurse, doctor, or a counselor, please make an appointment by call 330-263-2319.
Coronavirus Concerns
The College of Wooster is closely monitoring the rapidly evolving 2019 novel coronavirus (COVID-19) outbreak. Our most important responsibility is the safety and well-being of The College of Wooster community. More information about Wooster's 2020-2021 plan.
Understandably, you or those around you may have some questions and concerns about the Coronavirus. These suggestions can help you manage stress or anxiety that can arise during uncertainty or fears about your or loved ones' personal safety.
Medical Emergencies
If you have an emergency, go to the emergency department at Wooster Community Hospital located at 1761 Beall Avenue in Wooster. Take your insurance card.