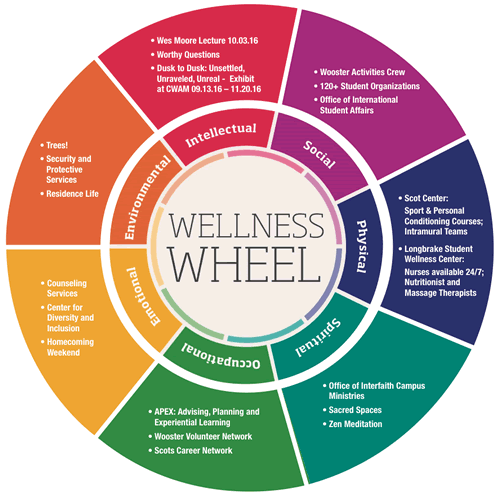 If you are a student, you may see a counselor at the Longbrake Student Wellness Center by calling 330-263-2319 to schedule an appointment. Regular hours are 9:00 a.m. – 4:00 p.m. Monday – Friday. There is a counselor on-call 24 hours a day for emergencies.
TimelyCare: Telehealth for Scots
College of Wooster has launched a new telehealth program for students called TimelyCare: Telehealth for Scots that will provide care while you are away from campus. The service will provide access to 24/7 medical and mental telehealth care from anywhere in the United States, with no cost at the time of visit! Use your Wooster email to establish a free and confidential account.
Whether you're feeling sick or overwhelmed, you will be able to talk to a licensed provider from your smartphone or any web-enabled device. Licensed providers are available to diagnose non-emergent medical conditions, prescribe medications, and offer mental health support via phone or secure video visits. Below are a few FAQs about TimelyCare.
How can students access TimelyCare: Telehealth for Scots? Go to TimelyCare: Telehealth for Scots to register with your school email address, and select a service to start a visit. You can access Scots Telehealth from any web-enabled device.
Who can use TimelyCare?Any College of Wooster student.
What services are available?There are three services available to students at no cost:
Medical: 24/7, on-demand access to a medical provider that can treat a wide range of common illnesses like cold and flu, sinus infection, allergies and more
TalkNow: 24/7, on-demand access to a mental health professional to talk about anything at anytime
Scheduled Counseling: scheduled options to speak to a licensed counselor
Health Coaching-access to coaches to support health sleep, eating, and exercise
Meditation & Yoga on demand classes
Psychiatry-accessed through referral from Wellness Center doctors or counselors
How much does a visit cost? There is NO COST for College of Wooster students.
Can TimelyCare services diagnose COVID-19? TimelyCare will virtually assess symptoms and administer frontline care in a contained environment to limit the spread of illness. They will also give recommendations on need for testing vs. self-quarantine, and where to go if testing or further care is needed.
"Let's Talk"
Let's Talk 15-minute Confidential Consults
Let's Talk 15-minute confidential consultations are opportunities for all students, staff, and faculty to connect with a counselor to get a different perspective, learn about resources, vent, discuss a specific problem, or get help for a friend. These consultations are conducted over Microsoft Teams (a HIPAA compliant platform) and are offered free of charge.
You may want to use 'Let's Talk' for one or many of the following reasons:
Need to know about and get linked with resources on campus and in the community
Want help setting up self-care/ time management/ stress reduction techniques
Consult about a student, friend, or peer who may be having a difficult time right now
Touch base with counseling staff regarding a personal issue
Let's Talk schedule:
Mondays 10:15 -11:45 a.m. (Kauke 025)
Tuesdays 10:15-11:45 a.m. (Williams 289)
Sign up with one of the counselors.
Counseling Resources
Have you been put on the counselor waitlist? Unsure of what to do next? Check out our list of Things To Do While Waiting to Talk to a Counselor .
NOTE: Confidentiality is governed under state counseling laws. Counseling records are separate from student's medical chart and academic records.
If you need help in an emergency and the Longbrake Student Wellness Center is closed or you choose not to use our services, please use one of the following options:
Wooster Community Hospital Emergency Room 1761 Beall Ave. 330-263-8100
National Crisis Line: 1-800-273-TALK (8255) En Espanol: 1-888-628-9454; For the deaf and hard of hearing: Dial 711, then 1-800-273-8255
Local Crisis Line: 330-264-9029
Crisis Text Line: Text '4HOPE' to 741-741
Crisis Text Line for Persons of Color: Text 'STEVE' to 741-741
Trans Lifeline Peer Support Hotline: 1-877-565-8860
TrevorLifeline (LGBT): 1-866-488-7386
TrevorText: Text 'START' to 678-678
Connect with Mind Matters Student Organization
Mind Matters is a student-run mental health advocacy organization at The College of Wooster. The purpose of Mind Matters is to provide mental health advocacy and education to the campus community, and serve as a platform for communication between the student body and administration on topics concerning mental health on campus.
Learn more about how fellow Wooster students are leading mindfulness exercises and ways you can get involved! Connect with the Mind Matters student organization.
International Student Support Program: My SSP
International students can access confidential and free support 24/7 from clinical advisors who speak their language and understand their culture as well as know the unique challenges students may deal with while studying in another country. Student can access articles, videos, tools, and resource and a clinical advisor through the app, website and telephone:
Download the free My SSP app from the Apple or Android app store
Visit the website us.myissp.com
Dial 1.866.743.7732 (for access outside of North America, dial 001.416.380.6578)
International Students – Crisis/Suicide Hotline Numbers. International Students can connect with crisis and suicide prevention hotlines while outside the U.S. This website provides numbers for a variety of countries.
Counselors
All mental health professionals are licensed with Ohio Counselor, Social Worker Marriage, and Family Therapist Board:
Wellness
College life can be good, bad, and everything in between. Learning can happen in different places and sometimes the most important things you learn happen outside the classroom. We've gathered some resources below for you to use as you learn to take increasing responsibility for your well-being and physical and mental health.
Mental Health & Trauma
In addition to the information provided below, there are free screenings available to you. If you are concerned about your thoughts, feelings, and/or behaviors (including your use of alcohol), please use the online screening program to give yourself some feedback with complete anonymity. Just login with the keyword "Wooster." If you have any questions, please give us a call 330-263-2319.
Community Counseling Resources
One Eighty (formerly Every Woman's House)
Counseling and Support
Domestic Violence or Sexual Assault
104 Spink Street
Appointments: 330-263-6021
24 Hour Hotline: 330-263-1020 OR 1-800-686-1122
One Eighty (formerly STEPS)
Substance Abuse Treatment, Education, and Prevention
Gault Liberty Center
104 Spink Street
Appointments: 330-674-1020
Counseling Center of Wayne and Holmes County
Mental Health (Including Pharmacological Therapy i.e. Psychiatric Care, Counseling)
2285 Benden Dr
Appointments: 330-264-9029
24 Hour Hotline: 877-264-9029
NAMI/MOCA House
Discussion Groups, Wellness Programs, Support
2525 Back Orrville Road
330-264-1590
Encompass Christian Counseling, Foster Care and Adoption Services
Offers Mental Health Counseling and Christian Counseling by Licensed Professional Counselors and Social Workers
637 College Ave
330-345-7949
Summit Therapy Center
4419 Cleveland Road
330-345-8450
This article from NAMI gives helpful guidance for finding a mental health professional in the community. You can also search local providers using this link from Psychology Today.
On-Line Resources for Mental Health Support & Suicide Prevention
Exploring Nature