Justice Dialogues
Justice Dialogues are an integral component to our annual celebration of the life and legacy of Rev. Dr. Martin Luther King, Jr., designed to share meaningful conversations about issues relating to civil rights and social justice activism, responsibility, and engagement.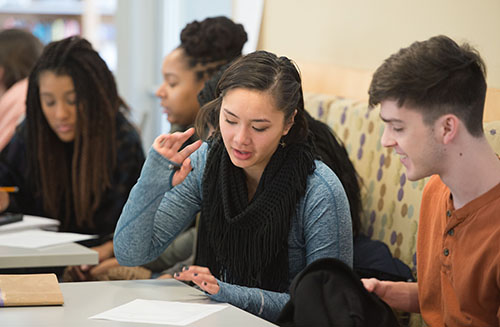 What is a Justice Dialogue?
A Justice Dialogue is an opportunity for our campus community to engage in meaningful exploration and discussion about issues that connect with Dr. King's work and vision on matters relating to civil rights, social justice, activism, responsibility, and engagement.
A Justice Dialogue is hosted by individuals, groups, or departments within the wider-Wooster community.
A Justice Dialogue is aimed at starting or continuing important conversations–and inspires actions–about diversity, equity, and inclusion throughout the rest of the year.
This year, Justice Dialogues will be held virtually and will be 60 minutes in length, including the presentation and a Q&A/Discussion period.
Justice Dialogues Schedule
Justice Dialogues will take place between 12:00pm and 5:45pm, immediately following the keynote address.
Time Slot
Dialogue Title
Presenter(s)
12:00pm to 1:15pm

Seeing is Believing: The Power of Representation in Higher Education
MiSTEM Exexutive Board
The R Word: Changing the Nomenclature around Disabilities
Broede Armstrong
Bringing It Home: Wage Justice in Wayne County
Claire Wineman '21, Gabe Melmed '21, Keira Wright '21
1:30pm to 2:45pm
The African Booty Scratcher: How You Got Your Black Card Revoked
Maresa Tate '21, Angela Danso-Gayne '21
The Struggle is Local: Anti-racist Policy Issues and Efforts in the Wooster Community
Desiree Weber, Laura Burch
3:00pm to 4:15pm

Scientific Racism: A Conversation with Champions for Change.
Dr. Asmeret Asefaw Berhe, Dr. Oliver E. Rollins, Dr. Meagen Pollock, Maresa Tate '21
Hidden Stories: Addressing FGLI Students' Inequality in Higher Education
Camryn Bragg '21, Annelisea Brand '21, Angela Danso-Gyane '21, Catera Clark '21, Zoie Bills '21, Savannah Sima '23
Do Respectability Politics Work?
Rob Razzante, Elizabeth Testamark '22
4:30pm to 5:45pm
Social Justice in Judaism
Ellie Shafron '22, Sabina Skolnick '21, Louis Schwartz '21, Lilah Weiss '23, Saralee Renick '22, Abby Kushner Benson '23
Why Talk About Able-Bodied Privilege: Mental Health and Disability in 2020-2021.
Stephanie Pokras '21, Alethea Deyhle '21, Allison Ringold '23
Black and Brown Women: Forgotten and Disrespected No More
Shankar Bhat '22, Sobika Thapa '23
For questions, concerns, or ways to get involved, please e-mail.