"Asking Questions Worthy of the Person You Can Become"
What is Worthy Questions?
Worthy Questions Program – Student Application
Worthy Questions helps College of Wooster students explore important life questions. The program is sponsored by Religious & Spiritual Life but is not affiliated with a particular religious tradition. Worthy Questions students (Questers) and their Mentors are committed to supporting and learning from each other as they seek to investigate and integrate values, beliefs, and decision-making in the personal, professional, and spiritual dimensions of their lives.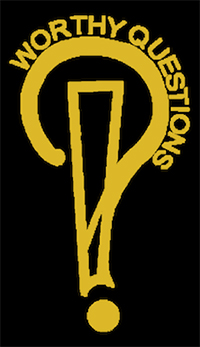 Large Group Meetings – One Tuesday/month; 7-8:30 p.m.
All Mentors and Questers meet to learn about and discuss a topic related to the semester's theme. Past themes have included:
How Do I Decide? What Do I Value?
Communities of Belonging
Dynamics of Fear
Who am I? How do I define my identity?
Transformation of Self and Society
Living Artfully and the Aesthetic Self
Small Group Meetings – Non-Large Group Tuesdays, 7-8:30 p.m.
Questers meet regularly in small groups that are facilitated to develop a safe and confidential environment for discussing life questions with peers.
Mentor Relationships
Each student is matched with a mentor from the Wooster community. Mentors are individuals who have more life experience with asking worthy questions, but Mentor-Quester pairs share the journey together and learn from each other.
Application Materials for Questors:
Application Materials for Mentors:
Program Goals
To provide tools and models for reflection
To provide a community for reflection
To facilitate personal development through greater understanding of self and the broader community
What Students Are Saying
"I've met a lot of different people and learned a lot. Without this experience, my outlook going into next year would probably have been a lot more mundane and uninspiring."
"Had I not been a part of Worthy Questions I would not be as adamant about putting my values into action in the next year and after college."
"My mentor has exerted a very soothing experience on this semester. It was great to have one hour where you just escaped the rush of everyday life and just sat down and talked."
"I've shared some of what I've learned with my friends and family – some interesting insights not only for me but for people I am close to."