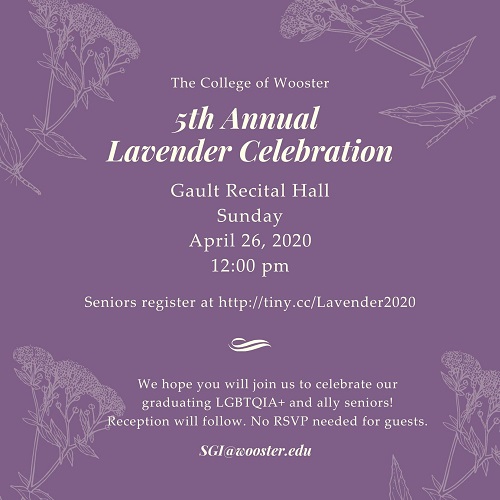 The 5th Annual Lavender Celebration will be held on Sunday, April 26th, 2020 at 12:00 pm in the Gault Recital Hall of Scheide Music Center, with a catered reception to follow.
Lavender Celebration is an inspiring and affirming ceremony that honors our graduating lesbian, gay, bisexual, transgender, queer, intersex, asexual (LGBTQIA+) and ally students for their strength and persistence in the face of adversity, as well as their achievements and contributions to the college. Participating students will receive a certificate, a lavender stole, and can choose to honor someone who has assisted during their college career. All of the Wooster community who wants to support the participating students are welcome to attend the event.
Are you a senior interested in being a part of the ceremony? Participating students will receive a lavender stole, a certificate, and can choose to honor someone who has been important to them during their time at the College of Wooster. To reserve your place in this year's Lavender Celebration please complete the registration form no later than Sunday, April 5th.
Lavender Graduation Ceremonies were first created in 1995 at the University of Michigan by Dr. Ronni Sanlo. Lavender Celebrations are now held at many colleges and universities across the county. The College of Wooster is proud to be a part of this tradition!
Want to learn more? Email Melissa Chesanko.