Partial and Full Classroom Upgrade Media Setup for Microsoft Teams
Connecting Your Computer to the New Equipment
1. Bring your own device and power cord (you may need a dongle depending on your device)
2. Power: Plug your device into a power source or plug a power source into your dongle as pictured above and power ON your device.
3. Projector:
Wired: Connect the classroom technology for the projector (cable for HDMI, VGA, minidisplay…) and power on the classroom projection system.
Wireless: Power on the classroom projection system and connect your device via AirPlay, etc.
4. Camera: Plug the USB cord labeled "Camera USB" into your computer or dongle.
Setting up Microsoft Teams to use the equipment
Choosing your settings before launching your meeting.
1.Once the meeting window has launched click on the gear wheel located under the camera image to alter the camera and sound settings before joining the meeting.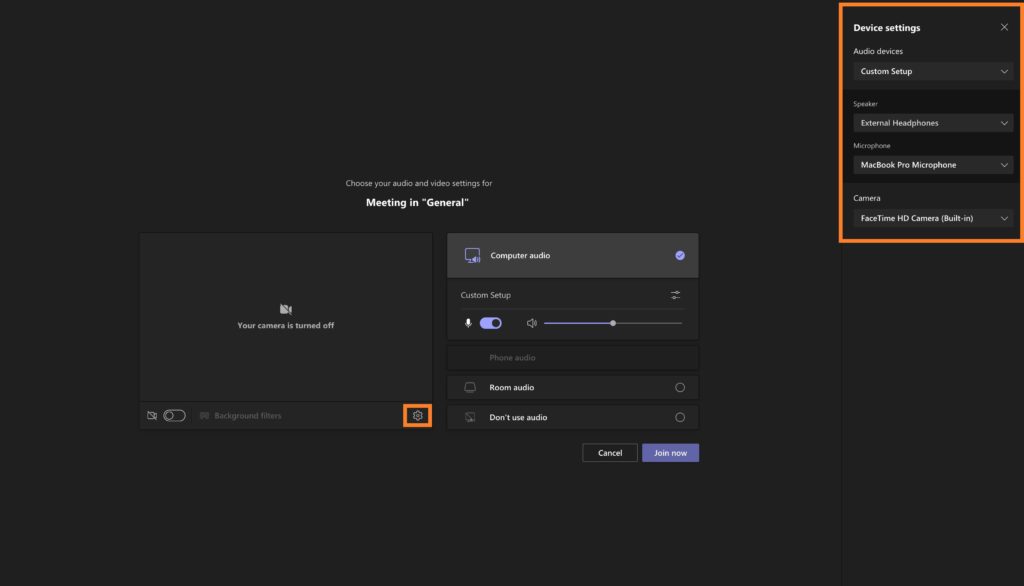 Changing settings once the meeting has started
Once a Teams meeting is in progress follow the following steps to alter your camera and sound settings.
1.Click the 3 dots for More Options
2. Click "Device settings"
4. For "Audio devices," choose HLD300
5. For "Speaker," choose Echo Cancelling Speakerphone – HDL300
6. For "Microphone," choose Echo Cancelling Speakerphone – HDL300
7. For "Camera," choose AT-HDVS-CAM
8. To change the camera view during a Teams meeting, click the camera swap icon in the lower right corner of the Teams meeting window until the desired view is obtained.