The College of Wooster is a residential community. Students live on campus all four years of their Wooster experience.
Housing Options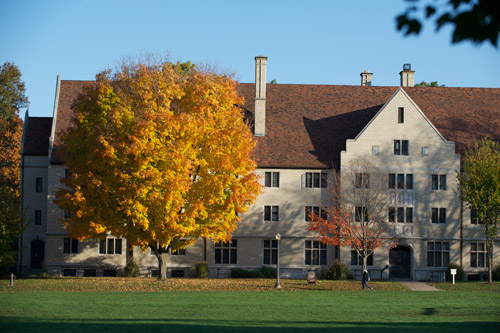 A variety of housing options are available to students, including traditional residence halls, themed-based housing, as well as more independent living opportunities in our campus program houses.
Housing selection for returning students takes place starting in January of spring semester. New students will receive information regarding housing after they deposit. Learn more information about our first year centers.
Have a Question? Need Assistance?
Every student in the Residence Halls, Westminster Cottage, and Miller Manor will have a Resident Assistant (RA) that they can go to with questions about resources on campus, help with work orders, as well as housing concerns. There is also information about staff on call available in each hall or house in the event of an emergency or if the student is unable to get a hold of their RA. There is also professional staff available in the Residence Life Office from 8:30am to 5pm, Monday through Friday.
Checking Out?
Students must checkout of their space when completing a room change or moving out of the space. More information about how to Check Out can be found on the Move Out site. If you have questions or need assistance, please contact your Resident Assistant or the Office of Residence Life.
Notice of Non-Discrimination Policy
The College of Wooster adheres to all federal and state civil rights laws banning discrimination in private institutions of higher education. The College of Wooster will not discriminate against any employee, applicant for employment, student or applicant for admission on the basis of race, color, sex/gender, gender identity, gender expression, pregnancy, political affiliation, religion, creed, ethnicity, national origin (including ancestry), citizenship status, physical or mental disability of a qualified individual, age, marital status, family responsibilities, sexual orientation, veteran or military status (including special disabled veteran, Vietnam-era veteran, or recently separated veteran), predisposing genetic characteristics, domestic violence victim status, or any other protected category under applicable local, state, or federal law, including protections for those opposing discrimination or participating in any complaint process on campus or within the Equal Employment Opportunity Commission or other human rights agencies.
If you have a bias or discrimination concern, please file a report so that we can address it.